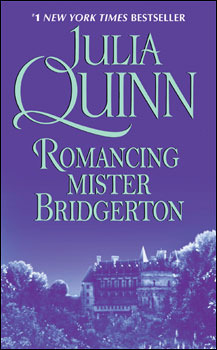 1 º The Duke and I
Todos parecían divertirse en aquel baile que reunía a lo más selecto de la sociedad londinense. Todos, excepto ellos dos. Daphne, una hermosa joven agobiada por su madre, y Simon, el huraño nuevo duque de Hastings, tenían el mismo problema: la continua presión para que encontraran pareja. Al conocerse, se les ocurrió el plan perfecto: fingir un compromiso que los liberara de más agobios. Pero no sería sencillo, ya que el hermano de Daphne, amigo de Simon, no es fácil de engañar, ni tampoco lo son las avezadas damas de la alta sociedad. Aunque lo que complicará de verdad las cosas será la aparición de un elemento que no estaba previsto en este juego a dos bandas: el amor. Desde que fue presentada en sociedad, Daphne no tiene un momento de respiro.
La culpa es de su madre, a la que adora, pero que está obsesionada con encontrarle un marido cuanto antes. Lo peor del caso es que los hombres razonablemente deseables no están interesados, y los que sí lo están son unos incansables pesados de los que tiene que librarse... incluso a golpes. Por eso acepta encantada la idea del duque de Hastings de fingir un noviazgo que ahuyente a los pretendientes. Aunque quizá también tenga algo que ver el hecho de que el joven duque comienza a resultarle cada vez más seductor. Marcado por una infancia llena de soledad y resentimiento, Simon Basset, el nuevo duque de Hastings, no quiere saber nada de la vida social de Londres ni, desde luego, de los intentos de las elegantes damas de "cazarlo" como marido para sus hijas. Cuando conoce a Daphne, cree haber encontrado el plan perfecto: un compromiso ficticio que mantenga alejadas a las pretendientes que lo agobian. Y cuando la atracción fingida comienza a convertirse en algo demasiado real, Simon deberá enfrentarse a los fantasmas del pasado que le impiden disfrutar la felicidad que el destino pone al alcance de su mano.
Gracias a "Sahar, Circle, Dandelion, Laia Y Carmen"
2º The Viscount Who Loved Me
Los cotilleos de lady Whistledown no fallan nunca: una vez más, Anthony Bridgerton es el soltero más codiciado de la temporada en la alta sociedad victoriana. Pero este año, el atractivo vizconde, amante de la diversión y enemigo del compromiso, sorprende a todos y decide buscar esposa y sentar cabeza. La joya más preciada, la joven y hermosa Edwina Sheffield, es su elección natural. Pero para conseguirla ha de obtener antes la aprobación de la hermana mayor de la muchacha, Kate. Anthony comprobará que convencer a esa mujer arrogante y decidida de que ha dejado de ser un vividor no es tarea fácil. Como tampoco lo es quitársela de la cabeza cuando llega la noche. Estaba decidida a proteger el corazón de su hermana...
Kate siempre supo que el éxito en sociedad no era para ella: pensaba que era demasiado alta, algo mayor para el matrimonio a sus veintiún años, y no especialmente bella. Por eso se dedica en cuerpo y alma a proteger a su adorable hermana pequeña de todos los vividores sin escrúpulos que la rondan en bailes y reuniones, atraídos por su belleza. Kate se siente más que capaz de mantener a raya a solteros de dudosa fama como el vizconde Anthony Bridgerton... aunque pronto descubrirá que del enfrentamiento a la pasión hay un paso muy pequeño.
¿Pero quién protegería el suyo propio?
Anthony Bridgerton tenía clara una cosa en su vida: que no viviría más años que los que vivió su padre, muerto antes de los cuarenta. Por eso ha decidido vivir su juventud intensamente, sin comprometerse a un amor que quedaría bruscamente interrumpido. Sin embargo, llega un momento en que decide casarse para dejar un heredero. Pero encuentra un formidable obstáculo, la persistente hermana de la novia elegida, que se atreve a desafiarle continuamente. Poco a poco, Anthony descubre en aquella mujer un rival digno de él mismo, capaz de hacerle replantearse muchas cosas... y un ser excepcional del que le va ser muy difícil no acabar enamorado.
3º An Offer From a Gentleman
Como en el cuento de Cenicienta, Sophie ve una noche cumplirse su sueño. A espaldas de su madrastra, se viste como una reina y acude al baile de disfraces más importante de Londres.
Lo que es más, consigue captar la atención de Benedict Bridgerton, el soltero más atractivo y encantador de la reunión. Sin embargo, pronto vuelve a enfrentarse a su cruda realidad, la de una hija ilegítima, pobre y sin recursos.
El destino quiere darle una segunda oportunidad cuando entra a servir en casa de Benedict, aunque él no reconoce en ella a la hermosa joven a la que lleva años buscando. Ella es ahora una simple criada, incapaz de revelarle la verdad. La magia de aquella noche parece perdida para siempre ¿o quizás no?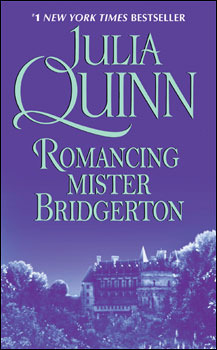 4º Romancing Mister Bridgerton
A sus veintiocho años, Penélope se ha resignado ya a convertirse en una solterona destinada a envejecer cuidando a su madre. Durante una década, ha asistido a todas las fiestas de la aristocracia londinense, y siempre ha sido la muchacha mediocre, callada, la que nadie saca a bailar más que por compromiso, la que pasa inadvertida para todos. También para Colin Bridgerton, hermano de la mejor amiga de Penélope, guapo, audaz, soltero de oro... y su amor platónico desde siempre.
Para Colin, Penélope siempre ha estado ahí, simpática, agradable, pero casi invisible. ¿Cómo es posible que todo cambie de repente? Sin saber bien cómo, el menor de los Bridgerton descubre a una mujer inteligente, sensible, audaz... y muy atractiva. Durante años se han conocido casi como hermanos, y de repente se dan cuenta de que no saben nada el uno del otro. Pero no todo lo que descubrirán va a resultar tan placentero...
5º To Sir Phillip, With Love
¿Es posible enamorarse de alguien a quien no has visto nunca?
Eloise, la pequeña de la familia Bridgerton, está a punto de descubrirlo. Hasta que se casó Penélope, su íntima amiga, no había sentido sobre sus delicados hombros el peso de la soltería. Pero ahora, un impulso inexplicable la empuja a cometer una locura, dejar Londres y presentarse en casa de un hombre al que sólo conoce por carta... y que quiere casarse con ella. Claro que cuando conoce a Sir Phillip las ilusiones se vienen abajo como un castillo de naipes: su príncipe azul resulta algo rudo, serio... y además tiene dos hijos que son auténticos diablos.
Pero Eloise ha detectado también una pasión latente bajo la piel, que no está dispuesta a dejar escapar, con un poco de ayuda de su extraordinaria familia.
6º When He Was Wicked
El día que conoció a Francesca Bridgerton, Michael probó por primera vez el dulce sabor del amor y el amargo gusto de la desesperación. Porque ella era la única de las muchas mujeres que había conocido que le inspiraba auténtica pasión, pero era también la mujer de su primo John, al que quería más que a un hermano. El destino interviene y John muere de forma repentina.
Su desaparición proporciona a Michael riqueza y posición... pero lo único que siempre envidió de él sigue estando fuera de su alcance, tras la infranqueable barrera del remordimiento. Francesca no entiende por qué el mejor amigo de John y en quien ella misma siempre ha buscado apoyo, no está a su lado para consolarla. Algo en su interior le dice que debe dar un pequeño paso, apenas un gesto, para que el secreto de Michael salga por fin a la luz. Pero esa misma voz le dice también que cuando lo haga su propia vida cambiará para siempre.
7º It's in His Kiss
Conoce a nuestro héroe...
Gareth St. Clair tiene problemas, su padre con el que mantiene una mala relación, está decidido a empobrecer las propiedades de la familia y arruinar su futura herencia. El único legado que realmente le pertenece es un antiguo diario familiar, que puede o no contener los secretos de su pasado y una posible llave hacia su futuro. El problema es que está escrito en italiano y Gareth no conoce el idioma. ¿Quieres conocer a nuestra heroína?
Algo con lo que toda la alta sociedad esta de acuerdo es que no hay nadie como Hyacinth Bridgerton. Es endemoniadamente inteligente y muy franca y, para Gareth, mejor tomarla en pequeñas dosis. Aunque hay algo en ella, encantador y algo desconcertante que lo mantiene atrapado. Y el pobre Mozart...
O quizás no. Aunque todos aseguran que Mozart se estará revolcando en su tumba con la anual, y totalmente discordante, gala musical de Smythe-Smith, momento en el cual Gareth y Hyacinth se conoceran. Para ella cada una de las palabras de Gareth son un desafío, y así se verá envuelta en la traducción de su diario. Pero mientras más avanza la traducción del misterioso texto más se dan cuenta de que las respuestas que buscan no las encontran en el diario, sino en ellos mismos...y que no hay nada tan simple, o tan complicado como un único y perfecto beso.
Gracias a "Ellloras"
8º On the Way to the Wedding
Ha pasado algo divertido…
A diferencia de sus conocidos, Gregory Bridgerton cree en el amor. Y está convencido de que cuando encuentre a la mujer de sus sueños lo sabrá nada más conocerla. Y es exactamente lo que sucede... aunque ella ya está enamorada de otro. La encantadora Hermione Watson está enamorada, pero su mejor amiga, la práctica Lady Lucinda Abernathy, quiere salvarla de una desastrosa alianza, y no encuentra mejor modo de hacerlo que ofrecerle su ayuda a Gregory, aunque durante el proceso será Lucy la que se enamore... de Gregory. Algo muy inconveniente, ya que gracias a su tío está comprometida en un matrimonio de conveniencia. Cuando Gregory reacciona y se da cuenta de que es Lucy, con su inteligencia, su alegría y su humor, quien hace que su corazón salte, intentará jugarse el todo por el todo y asegurarse de que cuando llegue el momento de besar a la novia, sea él el único que esté en el altar.