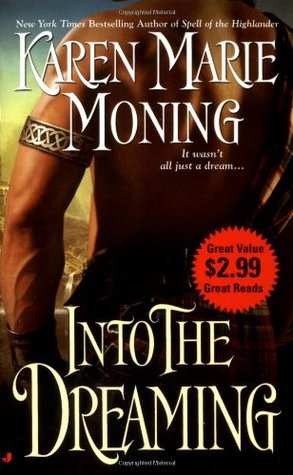 #1.- Beyond the Highland Mist
Escocia, 1513. Sidheach James Lyon Douglas, conde de Dalkeith y apodado Halcón, no sólo era un legendario guerrero sino también un legendario amante. Tal era su fama que los cánticos sobre su perfecta e imponente apariencia, así como sobre sus hazañas en el lecho con las mujeres, atravesaron las barreras del mundo terrenal para despertar los celos de criaturas tan mágicas como peligrosas.
Seattle, 1997. Adrienne de Simone vive con miedo desde su última relación. Tan hermosa como inteligente y fuerte, Adrienne ha jurado que nunca volverá a enamorarse, pero sobre todo, que odiará a los hombres hermosos hasta el día de su muerte.
La magia llevará a Adrienne a la Escocia medieval y se verá obligada a casarse con Halcón; un matrimonio que ninguno de los dos buscó. Para Adrienne será todo un reto resistirse a la perfección masculina que es Halcón, pero para él será una verdadera tortura experimentar cómo la primera mujer a la que ama es también la primera en rechazarlo.
#2.- To Tame a Highland Warrior
Grimm Roderick, mejor amigo del conde de Dalkeith, vive tan feliz como le es posible como jefe de la guardia de Hawk (Halcón en el anterior libro) en Dalkeith-Upon-the-Sea, junto a éste y a su adorable esposa Adrienne. Sin embargo, últimamente Grimm se siente inquieto y con la constante sensación de que algo va a ocurrir… Y sus temores se hacen realidad cuando recibe un mensaje de su antiguo conocido Gibraltar St. Claire que reza "Ven por Jillian".
Grimm juró proteger a Jillian St. Claire de cualquier adversidad, por lo que correrá a su lado a pesar de que su mera presencia perturbe a Grimm de tal modo que amenaza con sacar a la luz todos sus temores; un pasado que le atormenta y que Grimm enterró esperando no volver a enfrentarse a él, y por supuesto un pasado que nunca ha compartido con nadie. Y es que Grimm no es una persona normal; él pertenece a los guerreros legendarios que guardan bestias en su interior, conocidos como berserkers.
No obstante, la razón por la que Gibraltar ha hecho llamar no sólo a Grimm sino a otros dos guerreros: Quinn de Moncreiffe y Ramsay Logan, no es porque Jillian esté en peligro sino porque ha puesto en práctica su última baza para conseguir que su paciente, cauta, dulce y perfecta hija Jillian encuentre un esposo entre los tres pretendientes elegidos de una vez por todas.
#3.- The Highlander's Touch
Circenn Brodie perdió un objeto de gran valor cuyo deber era custodiar en medio de una batalla, pero le lanzó un conjuro por el cual el frasco perdido, una vez fuese encontrado y tocado por un hombre, regresaría a él. Sin embargo, como bien le señala su "invitado" Adam Black, el conjuro que lanzó no sólo hará volver el objeto hechizado sino también al hombre que lo encuentre. Los secretos que se esconden tras el frasco y la vida de Circenn y los que permanecen a su lado no son pocos, y Adam Black le obligará a hacer una promesa para mantener a salvo los misterios que les rodean: Circenn deberá matar al portador del frasco.
Sin embargo, ¿quién iba a imaginar que la persona que tocaría el frasco no sería un hombre, sino una mujer? ¿Quién pensó que eso supondría para Circenn estar encerrado sin salida entre dos promesas realizadas; una a Adam y otra a su madre? ¿Cómo iba a saber Circenn que el frasco no sería hallado hasta 700 años más tarde? ¿Cómo iba a imaginarse el señor de Brodie que esa mujer venida del futuro pondría todo su mundo y su meticulosa vida patas arriba?
Si algo queda claro, es que ni Circenn Brodie, del S.XIV y descendiente de antiguos reyes, ni Lisa Stone, del S.XXI con una vida muy difícil y complicada, imaginaron que sus destinos iban a entrecruzarse ni a quedar sellados por un conjuro mal realizado en medio de una época donde se libra una gran batalla por la independencia de Escocia.
#4.- Kiss of the Highlander
Drustan MacKeltar fue encantado en 1518 y obligado a dormir por toda la eternidad en el interior de una oscura cueva.
Gwen Cassidy ha decidido dejarse llevar por un impulso y se ha unido a una excursión por las Highlands en la que busca no sólo desintoxicarse de la nicotina sino encontrar a un hombre que le haga sentir pasión y amor. El destino querrá que Gwen acabe por accidente en el fondo de una cueva, despertando de casualidad a un guerrero medieval a quien tomará por un hombre increíblemente apuesto salido del manicomio. Por su parte, Drustan tomará a Gwen por una inglesa de limitada inteligencia y atuendo descarado.
Cuando Drustan descubra que ha dormido quinientos años obligará a Gwen a llevarle a su castillo para comprobar si su clan, los MacKeltar, sigue existiendo y si se ha cumplido el propósito de continuar con la estirpe a pesar de su desaparición. ¿Estará el castillo MacKeltar donde antaño? ¿Y si no es así?
#5.- The Dark Highlander
Dageus MacKeltar ha roto El Pacto que hace cuatro mil años hicieron los Keltar con los Tuatha dé Danaan, y como consecuencia ha sido poseído por una oscuridad que crece cada día que pasa y amenaza con absorberlo; se trata de un poder que podría destruir el mundo. Pero Dageus no está dispuesto a dejar que ese poder le domine, y en el S.XXI busca desesperadamente en los textos antiguos la solución a su peculiar maldición.
Chloe Zanders entrará en su vida de una forma muy poco corriente debido a su insaciable curiosidad y Dageus no podrá evitar seducir a la pequeña mujer, riendo ante la ironía de que en sus horas más oscuras, cuando ya casi no le queda tiempo, ha encontrado a su compañera para toda la vida… aunque Chloe niegue lo evidente.
#6.- The Immortal Highlander
Adam Black tuvo la osadía de desafiar a la reina de las hadas frente a toda su Corte, y ahora está pagando las consecuencias: su reina, Aoibheal, le ha castigado encerrándole en un cuerpo mortal, sujeto a las necesidades fisiológicas de los mortales y quitándole prácticamente todos sus poderes de tuatha dé. Pero no contenta con ello, además le ha lanzado el hechizo del féth fiada en todo su esplendor, volviendo a Adam invisible a los ojos humanos, sordo a sus oídos e inmaterial a su tacto. ¿Durante cuánto tiempo? Eso sólo su reina lo sabe, pero tras unas horas Adam empieza a desesperarse…
Gabrielle O'Callaghan es una chica hermosa e inteligente, pero con unos estudios y unas prácticas de Derecho que le dejan tiempo para poco más. No obstante, ese verano está siendo peor de lo que imaginaba, porque Gabrielle tiene un secreto: ella, como muchas otras que la precedieron en la familia O'Callaghan, puede ver a las criaturas mágicas, a los tuatha dé danaan, aunque ellos se muestren invisibles a los ojos de los humanos. Y ese verano en particular hay cientos de ellos en Cincinnati. Desde la antigüedad las personas como Gabby eran secuestradas por los tuatha dé y nadie volvía a saber de ellas, por lo que desde pequeña ha aprendido a fingir que no los ve, como cualquier otro humano.
Pero un día, frente a ella, se muestra la criatura más espléndida y magnífica de cuantas ha podido ver. No tiene el aspecto habitual de los tuatha dé, pero no por ello es menos hermoso y arrollador. Su incertidumbre será advertida por dicha criatura, y Adam Black no dejará escapar a la única mujer del mundo que es capaz de verle y, por consiguiente, de ayudarle. No obstante lo que Adam no esperaba es que alguien de su propio pueblo intentaría matarle ahora que está completamente indefenso, poniéndolos en peligro a ambos.
#7.- Spell of the Highlander
Cian MacKeltar, poderoso druida del siglo IX, fue encerrado en un espejo mágico de los tuatha dé danaan por Lucan Trevayne. Ahora, más de mil años después, se dan por primera vez en dicho tiempo una serie de coincidencias que hacen que el espejo salga por vez primera de casa de Lucan y vaya a parar al despacho del profesor Keene.
Jessica St. James recibirá una noche de viernes una llamada telefónica que cambiará su vida; el profesor Keene le pide que acuda a su despacho a recoger la entrega de un objeto que él no puede atender por encontrarse en el hospital a causa de un accidente. A regañadientes Jessi acudirá, pero sin imaginar que a partir de ese día su vida daría un giro de ciento ochenta grados pasando de ser monótona, aburrida y sobresaturada de trabajo a tener que aliarse y ayudar a un hombre que debería haber muerto hace más de mil años si quiere seguir con vida.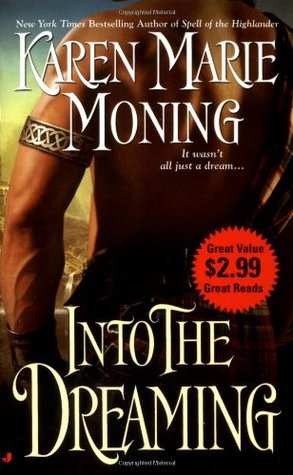 #8.- Into the Dreaming
No era solamente un sueño…
Jane Sillee, una aspirante a escritora de novelas románticas, estaba completamente enamorada de su hombre imaginario, el ardiente y robusto Highlander de cabello oscuro que había estado acudiendo a ella en sus sueños durante años y que inspiró sus sensuales vuelos de fantasía literaria.
Pero fue más que su imaginación lo que conjuró al tapiz brillantemente tejido que lucía el vivo retrato de su magníficamente arrogante guerrero. Fue más que un sueño lo que la transportó a la Escocia medieval para romper un hechizo maligno. Y fue más que lo que ella podría manejar cuando se encontró rodeada por los musculosos brazos de Aedan MacKinnon, quien tenía sus propias fantasías que cumplir…